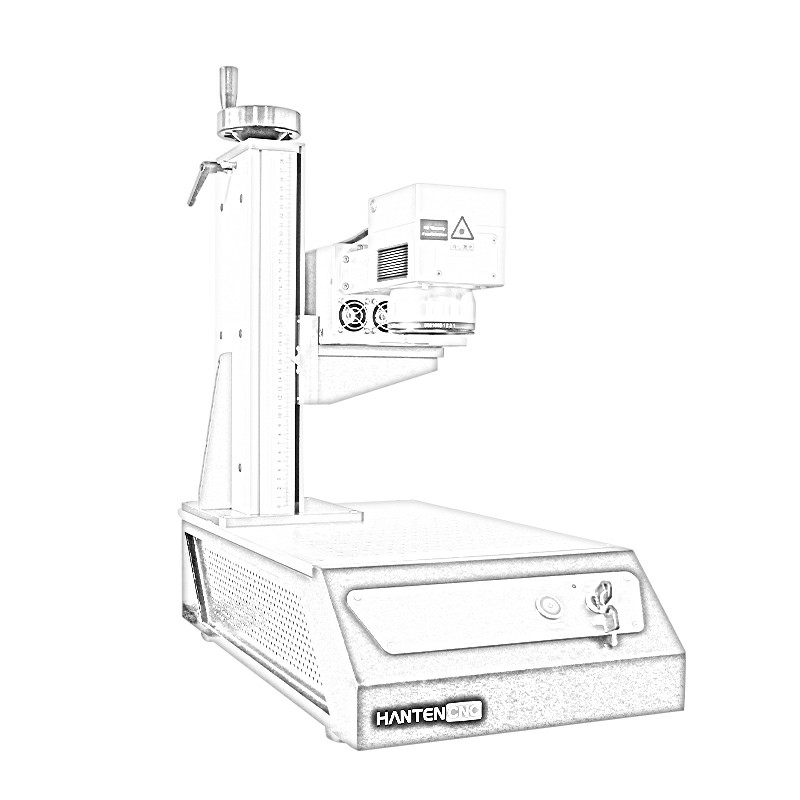 UV laser marking machine. This is mainly a cold processing equipment, which does not generate heat on the processed surface of the product.The physical deformation of the material is reduced and the heat effect of processing is small, so it is a suitable choice for finely processed products. Therefore, the configuration of the marking machine is also a high-quality configuration, which has higher technical requirements and high precision. The effect is more exquisite than that of CO2 and fiber lasers making.
The Structure of the UV Laser Marking Machine
The structure of the UV laser marking machine is composed of UV laser, galvanometer, lens, industrial computer, control card, workbench casing, electric control device, power supply, red light, pedal, combined operation mirror and other original parts. Its galvanometer and lens are different in thickness and material than other coatings.So they are also more expensive. The main price difference is the difference type of laser source.
The wave light length of uv laser is also different of fiber laser . The wavelength of UV is 355NM, which is short wave, and one of the characteristics of short wave is that it does not produce too much thermal effect on the material. The wavelength of the fiber laser marking machine is 1064NM, which belongs to infrared light, which is prone to high temperature. If there is a material that is sensitive to heat, it will feel scorched.
Advantages of UV laser marking machine
1. The ultraviolet laser marking machine is equipped with imported violet laser source, which has excellent performance, uniform laser power density, fine spot, and stable output light power;
2. Modular design of UV laser marking machine, flexible application, equipped with automatic/manual working mode;
3. The ultraviolet laser marking machine is suitable for a wide range of materials, which makes up for the lack of infrared laser processing capabilities and can achieve ultra-fine laser marking;
4. Ultraviolet laser marking machine has a small heat-affected zone, avoids being damaged by processed materials, and has a high yield;
5. The UV laser marking machine does not require consumables, and the use and maintenance costs are low.